Audition Superhero Guidebook
Whether you are just starting out, or a working actor, this practical guide that is both kid and parent friendly will help you deliver consistent call-back worthy auditions. Includes practice exercises and games to hone your skills. Available in paperback on Amazon for $14.99. Or, as a downloadable PDF with this link for $9.99
Get Audition Superhero Guidebook (downloadable PDF) Now!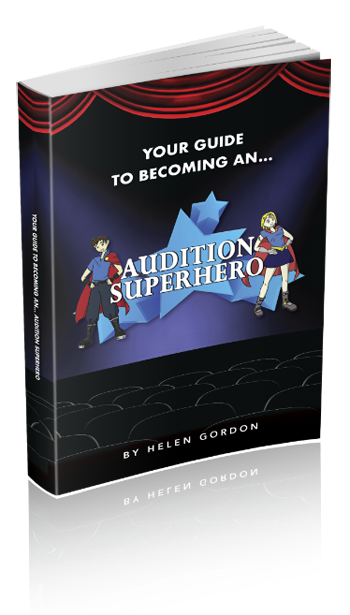 Acclaimed Kid Acting Coach Releases Must-Have Guide to Becoming an Audition Superhero
Helen Gordon Unleashes Her Superpowers to Help Kid Actors Everywhere Transform Their Auditions
LOS ANGELES, CA – JUNE 22, 2020 – With more than 20 years of acting coach experience under her superhero belt, including instructing stars Rico and Raini Rodriguez early in their careers, Helen Gordon releases her first book, Your Guide to Becoming an Audition Superhero, a must-have resource to help kid actors prepare and nail commercial and theatrical auditions.
"Whether a beginner in the business or a working actor, the guide I've developed includes game-changing tips and techniques that will help readers deliver consistent, call-back worthy auditions," said Helen Gordon, Author and Acting Coach. "At Helen Gordon Studios, we know casting directors don't want actor robots, which is why we focus on the importance of our students being themselves, acting natural and having fun," she added.
Both kid- and parent-friendly, Your Guide to Becoming an Audition Superhero is a practical guide that keeps on giving and can be referenced repeatedly as needed to prepare for auditions. Gordon infuses her no-holes-barred, effective coaching style throughout the book, which is full of specific examples, worksheets and how-to tips and tools that address:
Bringing out your best personality
How to be good at improv
Mastering monologues
How to listen, react and respond during scenes
Keeping it real when it comes to emotions
How to create memorable characters
What matters most from self-taping to table reads
"When you coach with Helen Gordon, you feel like you are seeing the audition through a casting director's mind because she can quickly recognize all positive and negative aspects of a performance," said Judy Marino, parent of one of Gordon's students. "My daughter started getting theatrical call-backs as a direct result of Helen's coaching."
Your Guide to Becoming an Audition Superhero is available now on Amazon in paperback for $14.99 or a downloadable PDF for $9.99.
About Helen Gordon
Helen Gordon is a NY-trained professional actress and has been coaching young actors in Los Angeles for more than 20 years. Her students are some of the most successful young actors in Hollywood who have worked with Harrison Ford, Johnny Depp, Brad Pitt, Jim Carrey, Cameron Diaz, among others. Helen was the on-set acting coach for Nickelodeon's hit TV show, The Haunted Hathaway's (50 episodes), Santa Hunters, and other pilots. She has been named one of Backstage's Favorite Acting Coaches for young performers three years in a row. Helen lives in Sherman Oaks, California with her husband and daughter. Go to https://helengordonstudios.com.